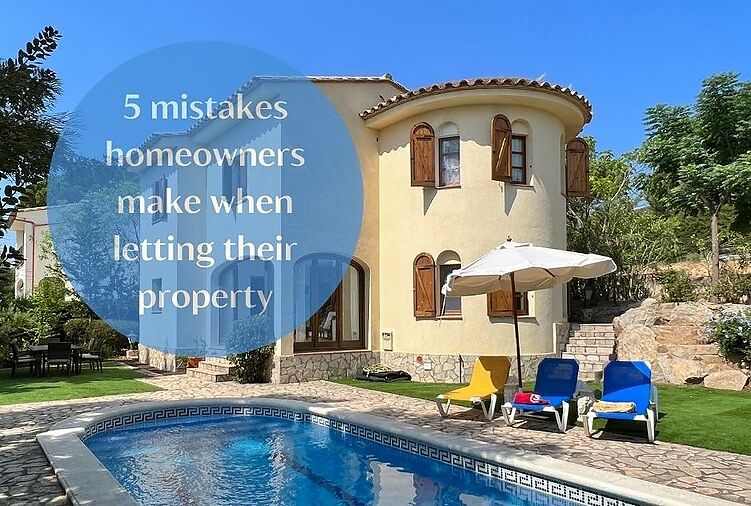 Published:
&nbsp
5 mistakes homeowners make when letting their property
Check out if you are making any of these mistakes!
Ready to let your second residence to obtain some income on your investment?
These are 5 biggest mistakes the owners make!
Rent out in low season, enjoy the house in high season.

The months of most demand on the Mediterranean coast are July and August. Any agency will ask you to commit to having your house available during at least those two months. However, any time from May to October are also a great time, with an added advantage of little tourists. Just plan your holidays wisely and in advance, and you can both enjoy your house and let it at a profit! Some owners actually move out to a cheaper accommodation or travel to their home country to visit friends or family during the high season in order to maximise their rental profits!

2. Not having a clear idea of publishing costs.

Different portals have different systems: some may charge for a period of having an ad published on their site, while others per booking. If you decide to promote your property for rental on your own, it's worth checking the publishing requirements of each site. The cost of making professional photos is another aspect to keep in mind. There are virtually hundreds of properties for rent in the same area, and your ad has to have a competitive edge. Agencies, on the other hand, have access to more portals at a lower cost and to more clients as they also have their own database, including repeating clients, which adds an element of security as you know who your tenants are and what to expect of them.

3. Owners that think they can do the house maintenance themselves while it's rented out.

It's a no-go as seeing complete strangers use your house can be hard. You may ask yourself if it's worth it and feel a slave of your commitment, instead of enjoying your summer too. Delegate this task to your trusted agency and let professionals do their job!

4. Assume that if your house is good enough for you, so it is for your guests.

You may be very attached to your old sofa, despite a hole sunk in the middle, and not find it trouble to sometimes give the washing machine a kick to make it work, but the truth is, tenants look for something simple, easy to use and fully-functioning for their money. You need an impartial eye of a third party to review your house and give an opinion of what needs to be changed in order to bring out the full renting potential. We always recommend keeping it simple, removing all personal items, preferably storing them in a locked closed or garage. It may be challenging but if you made up your mind to let your property in summer, there are many ways to prepare your house. You can always drop by our office for a chat and advice without any commitment.

5. Forgetting about late arrivals and emergency situations that tenants may have.

Are you ready to be disturbed in the middle of a Sunday lunch with the family, because the tenants that arrived last night don't seem to know how to use the air conditioner? To be frank, we wouldn't enjoy that either, but if it's one's paid job, that sure makes things different!

Imisa Costa Brava has been managing rental properties for years, what's more, we are in the heart of Costa Brava and right at the entrance of/on the way to the south-western suburbs of Calonge, where many houses for rent are concentrated, meaning we are always there for your clients.
Drop by our office or book an appointment and we'll be more than happy to explain in more detail how this works and what options are best for you.